Introducing Our Practice Team
Everyone at our practice is committed to providing you with the very best in pet healthcare. Our veterinary team bring a wealth of experience to the practice and have individually obtained high standards of professional qualification.
Kieran Doyle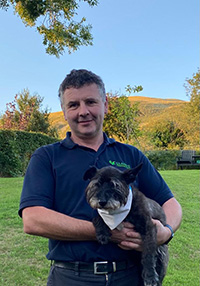 MVB MRCVS
Kieran founded Clanrye Veterinary clinic in 1999 when he took over the practice. He graduated as a vet from UCD in 1996 and spent the intervening years working in Castlewellan, Australia and New Zealand.
Kieran Is a familiar face to many as he is a local to Killowen. Always busy and on the move you could find him in our Newry clinic, in our Kilkeel clinic or on the road visiting farms.
When he's not here, keeping the show on the road, Kieran can be found watching sports or spending time with his family. He's always up for the craic and enjoys our staff social events!
Kieran is the proud owner of Archie, this handsome wee chap pictured.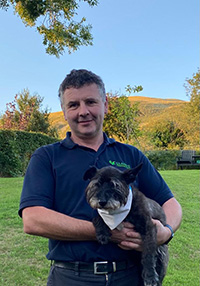 Brian Doyle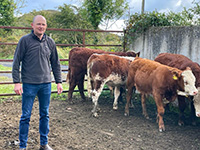 BVM&S MRCVS
Brian has been a partner at Clanrye Veterinary Clinic with his brother Kieran since 2005. After studying Veterinary Medicine in Edinburgh University he worked in mixed practice in Fermanagh for several years before moving home.
Though he enjoys all aspects of mixed practice, Brian has a passion for farm animal veterinary and is mostly found chatting to farmers out in the country dealing with sheep and cattle.
Always keen to advance farm animal practice, Brian offers many herd health services in addition to tending to sick animals.
Similar to his brother, Brian is an avid sports fan and family man. He is always available with a wealth of knowledge and a listening ear for support and advice.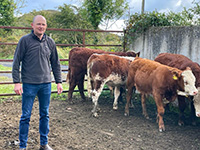 Caitlin McAnulty
BVM&S MRCVS
Caitlin is from the Northeast of Scotland and graduated from Edinburgh in 2013. She has experience in a farm and small animal practice and spent time working in the Northwest of Ireland. She also has a keen interest in small animal medicine cases and geriatric cats. Outside of work she likes to explore the outdoors and the beech with her 2 rescue dogs Penny and Maisie.
Sedona Megarity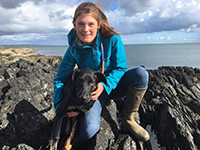 BVetMed MRCVS
Sedona qualified as a Veterinary Surgeon from The Royal Veterinary College of London in 2016.
A Norfolk girl, she spent some time working in mixed practice across England before meeting her now husband - Jason!
Thankfully for us, he's a local which brought Sedona here to work with us.
When not working, Sedona really enjoys kayaking or exploring the Mournes and beaches with her two dogs Peggy and Hugo! Here she is pictured with her beautiful Huntaway Peggy!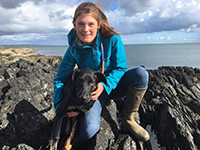 Naomi Condell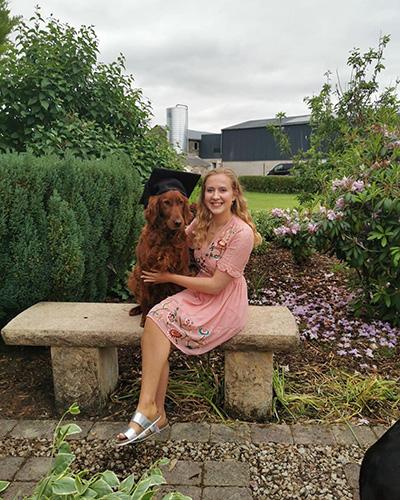 MVB MRCVS
Naomi graduated as a Veterinary Surgeon from UCD Dublin in 2021!
From a farming background herself she's well used to working with both large and small animals and likes to get stuck in wherever she can lend a hand!
When she gets some time away from busy vet life she loves to hike, walk her dogs and enjoys surfing!
Here she is pictured with her beautiful Red Setter called Copper who was gifted to Naomi for her 18th birthday!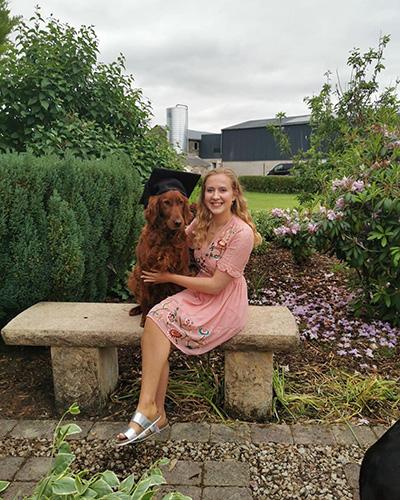 Gráinne Coyle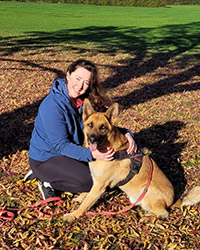 BSc DVM MRCVS
Gráinne hails from County Kildare and graduated as a Veterinary Surgeon from the University of Veterinary Medicine Budapest in 2020.
She joined our team shortly after & has been with us ever since! Gráinne enjoys the variety of working in mixed practice and excels at working with both large and small animals! When not working, Gráinne enjoys exploring the outdoors. Shes a keen traveller and you could meet Gráinne on any continent!
At home she has a strong willed cat called Rosie who she hand reared from birth!
Here she is pictured with her German Shepherd 'Flynn'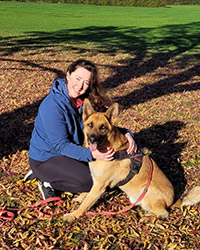 Michelle Megaw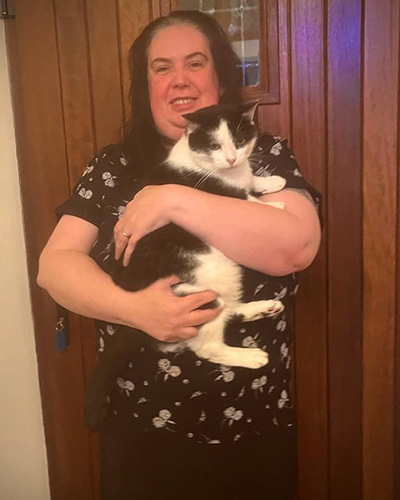 VNCertECC RVN RAMA(RSQP)
Michelle Qualified as a Registeted Veterinary Nurse from Myerscough College in 1999. Before Michelle joined our team in 2012 she worked in a busy referral and emergency clinic in Belfast where she obtained her Emergency and Critical Care Certificate. She has just gained an Oral Care Nursing Certificate in Dentistry and has recently become an SQP always trying to progress in her skills.
Michelle brings a wealth of knowledge and experience to our team and we are so fortunate to have her! As well as being our Head Veterinary nurse she is fundamental in running our highly successful Veterinary Nurse Clinics with our other nurses.
When not working Michelle enjoys spending time with her two children, 2 dogs and 6 cats. She's a keen gardener and vegetable grower producing some impressive tomatoes!
Here's she is pictured with her handsome cat Arthur.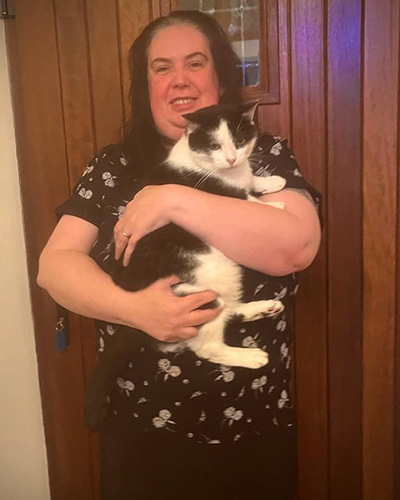 Hannah Skillen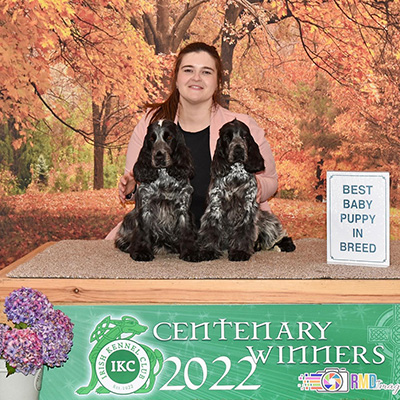 RVN
Hannah started off with Clanrye in 2014 as a nursing assistant. As we are an RCVS accredited training practice she had a keen interest to progress within the profession thus began her training at Greenmount College, eventually graduating as a Registered Veterinary Nurse in 2018!
Hannah enjoys working between both clinics but you'll mostly find her in our Kilkeel branch as she is a local and well known by many.
In her spare time you'll either find Hannah on a horse, at the gym or spending time with her beloved spaniels. She competes at dog shows all over the country and was delighted when Willow qualified for Crufts for the second time.
Here she is pictured with her girls Willow and Dolly.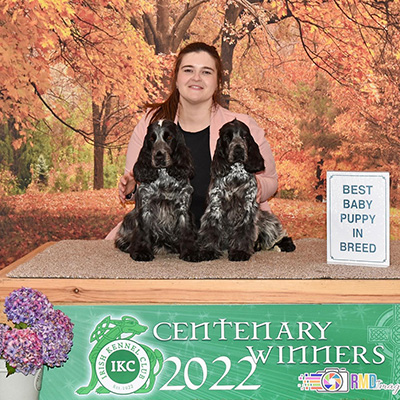 Robyn Hanna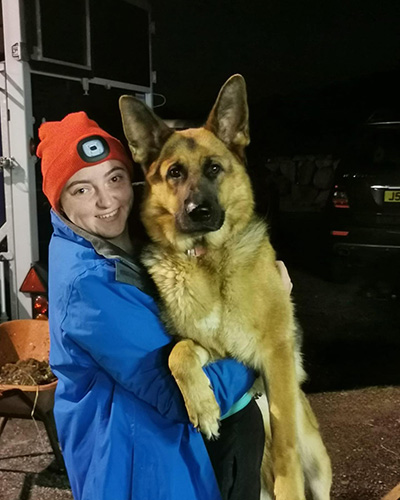 Student Veterinary Nurse
Robyn joined our team in 2021 and is currently training as a Student Veterinary Nurse at Greenmount College.
She's such a caring and hardworking individual, always eager to learn and help out wherever necessary. She's extremely compassionate, exactly what we need when nursing your sick animals back to health.
When not working you'll find Robyn getting stuck into a book or helping out at home with her 7 horses, 5 dogs and little cat Louis!
Here she is pictured with her beautiful German Shepherd called Luna.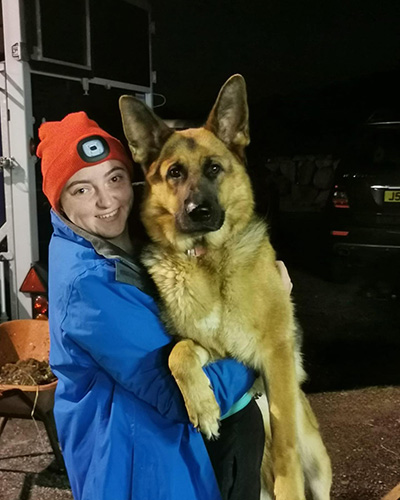 Karen Carlisle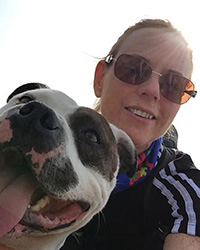 Practice Manager
Meet Karen our office accounts manager. She's been with Clanrye since 1999!
We are so fortunate to have someone with this much experience and dedication within our team for this length of time. She's a familiar face to many who have been coming to Clanrye throughout the years and loves getting the craic with all the clients!
When Karen gets some time away from her busy mum life she just loves to hike and run! Always busy, she has 4 girls and two little shihtzu at home to keep her on her toes!
Here she is pictured with her little friend Buddy who regularly joins her on hiking trips!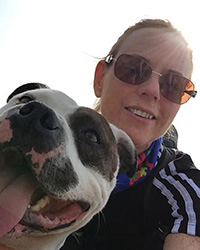 Geraldine Hillen
Receptionist
Emma McComiskey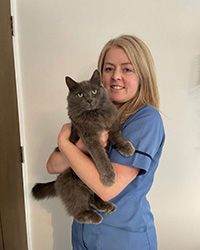 Receptionist
Emma joined our veterinary receptionist team in 2018. She is based in our Kilkeel branch and as a local, loves to see all the familiar faces visit the clinic.
As a country girl from a young age Emma enjoyed helping out on her grandparents farm and is always ready to get stuck in whenever necessary!
Emma leads a busy life outside of work as she is married with two children. She loves spending time with her beautiful cat called Smokey.